THE RIGHT WAY TO PRESENT YOUR PRODUCT/SERVICE TO YOUR CUSTOMERS ONLINE
When it comes to offer presentation, many small business owners miss the point while trying to let prospective customers see why they should be patronised.
Though, there are many theories that explain how to do this in the traditional way with proven results.
However, when it comes to the internet, the digital space, presenting your product or service to your customers should be done in a very straightforward, brief and concise manner.
Most of the digital platforms we use to market today are not originally meant for marketing. People visit them to socialise.
So, while they are socialising, checking on their friends, enemies and celebrities, you should know that they do not have so much time to have a look at your offer.
Especially when you do not go straight to the point or catch them in 2 seconds with the benefit of your offer. 
In my 3-in-1 Masterclass, we had a discussion around this today where I asked people to pitch their products and services.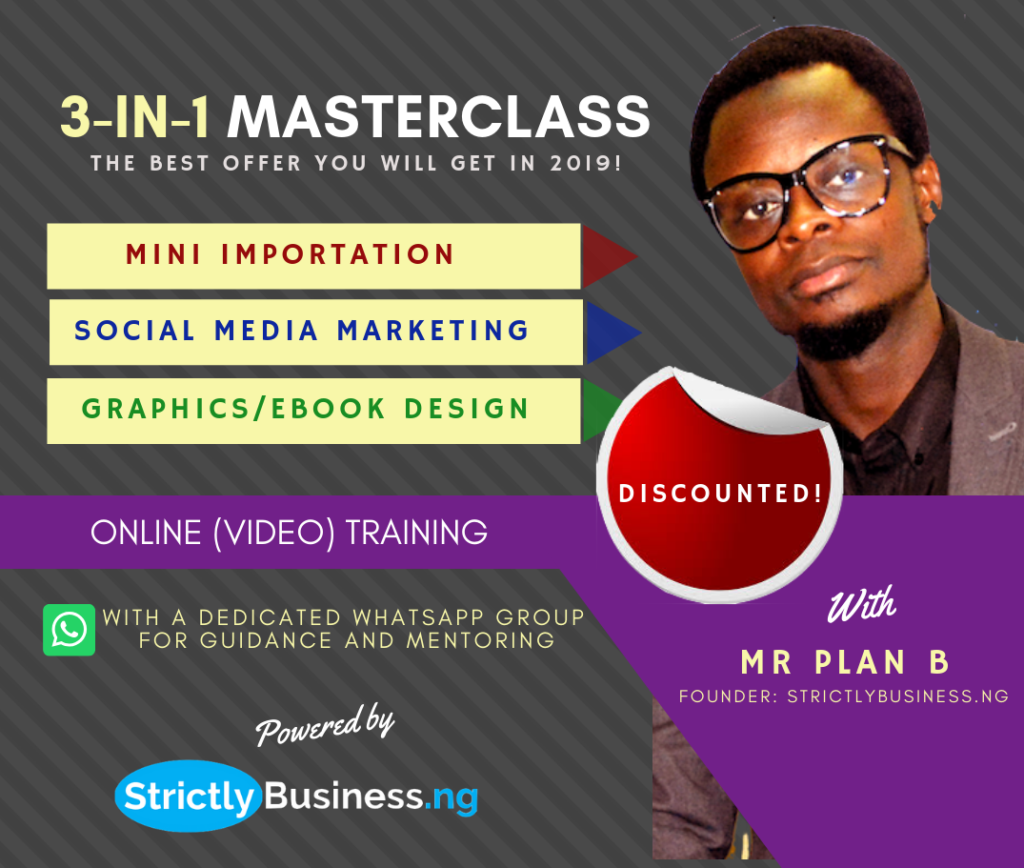 Many people, expectedly, focussed on telling all the details in this world about their product and how it is made.
Of course, this is good, but I am sad to tell you that this does not win your customers heart at the beginning and when the platform is social media especially.
On social media, you need to be brief, concise and straight to the point. 
Do not waste time and space by giving all the details about your offer. Just tell people how your offer solves their problems in one sentence if possible.
This will trigger curiosity. They will ask for more on their own.
Hammer on a problem and the solution or the experience they will get with your product or service.
No one is at first, I repeat, at first, is interested in the ingredients of your health products or whether it is made in Nigeria or Asia. No one is interested in your certificate or number of years of experience you have. No one cares whether you are Harvard-trained or MAPOLY-trained. Those should or can come later.
At first, customers want to have an emotional feeling of the aftereffect of your offer. So, let your presentation do that job once.
For instance, someone who offers a service for teens-parents relationship amendment posted this;
"I help parents have a healthy and meaningful relationship with their teenagers, so we all can live in a saner society"
This is good but it s better to say;
"I help you make the best out of your teens. You will build strong and healthy relationship with them while you watch them become successful"
No one is actually primarily nurturing their children/teens for a saner society.
That is the bigger picture though. But before then, what will be the immediate and personal benefit for the parent?
With the message – watch them become successful – every parent wants that and more of them can resonate with that instead of a saner society.
When they see – saner society – they move on with their browsing on social media. 
When they see – watch them become successful – they smile and click.
The chance that a parent will click and check out your offer is higher in the second message because you are talking to him/her directly.
Do you get the point?
Let your message speak directly to your customers, first emotionally and then logically.
Let them see how getting your offer will solve their current problems or make their life better.
Let them see how not buying from you will be a great mistake. Pinpoint the pains they will continue to live with if they do not buy from you.
If they do not buy because your offer will help them, they will buy because they want the pain out now that you have reminded them of it again.
Another business owner who offers learning aid services wrote this;
"I am a learning support expect, I help children with learning difficulties and low grade attain success in their studies. I work with kids in both primary and secondary School and the testimony from my past record is that I achieve this in less than 3 months. I currently work in a school as The learning support I have been doing this for 6years now and I intend to make an Enterprise out of it were I can work with private individual and school as a consultant."
But I think the one below is better;
"Give me 3 months and I will help improve your child's learning with improved understanding and grade as results."
The second is straightforward enough and tells a parent what to expect as outcome and when.
They will be salivating already for it.
That is how to craft your pitch and business presentation on social media and even everywhere.
I hope this helps a business owner out there.
What do you offer and how do you present it? Tell me below probably I can help you redraft it.
Do not just read this, Like and share with a business owner who will benefit from it.
Cheers.
Plan B
#BusinessPitch #Sales #Marketing #DigitalMarketing #BusinessPresentation #ElevatorsPitch #OfferPresentation #CustomerAcquisition #SocialMediaMarketing #PlanB #MrPlanB #StrictlyBusiness