3 Ways To Generate Profitable Ideas To Make Money Online
This is the Day 2 of our series on how to start a profitable online business to make money online.
I apologise that this is coming a bit late after releasing the Day 1 lesson which I hope you got a lot of value from. The delay was actually due to the fact that I had to go on a trip and could not do so much over there. 
Now, we can move on with the series and I hope you will make the best out of it.

In today's lesson, we will be learning the 3 easiest ways to generate ideas which you can easily turn into an online business venture to make money regularly.
Like I always say, making money online is not so difficult, we make it difficult by wanting to do what we do not have capacity to do, leaving behind what we really have the capacity and skills to do. 
So, I hope after going through this, you will be able to come up with ideas and not only that but to also recognise the idle ideas you already have that you do not know can help you make money online.
May I use this opportunity to inform you again that whatever you learn here is a tip of the iceberg from the main course (GoDigital) which is where this is coming from. 
The following are the 3 basic (out of the several) ways to generate profitable business idea you can launch into an online business;Y
Your Talent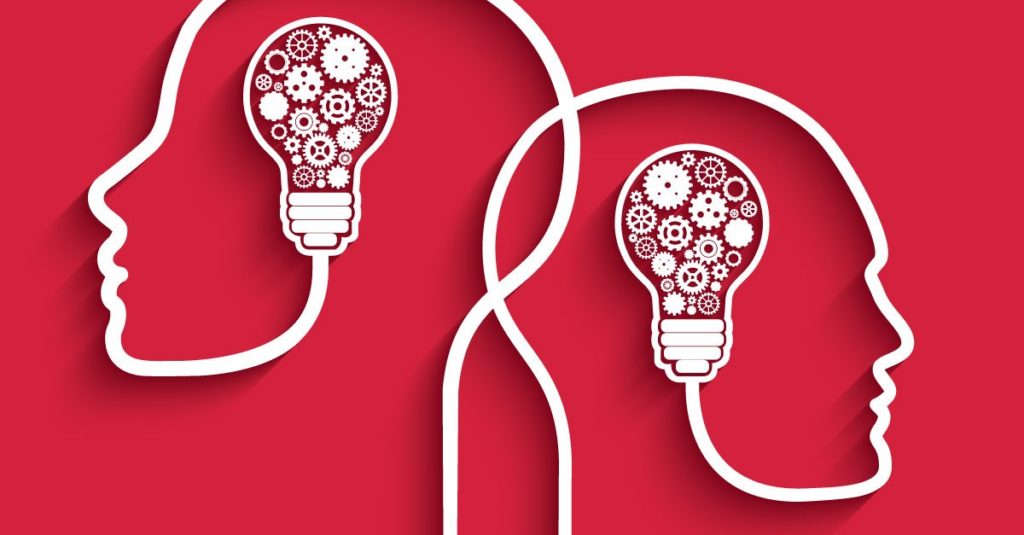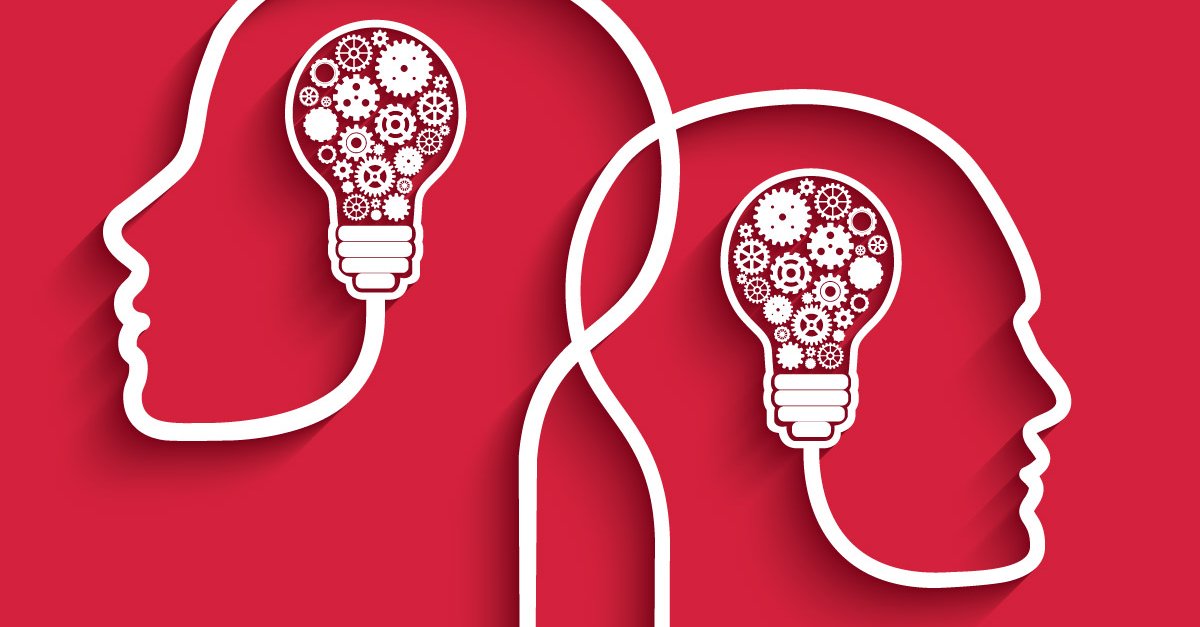 You are said to be talented if there are skills your are naturally endowed with without being taught.
For example, for many people, academic brilliance is a talent. That is why someone can be poor, go to a public school in a village and still be academically brilliant while another person may be rich, go to a private school with very good and high standard and still not be brilliant. 
Another example is cooking. There are people who naturally can cook delicious foods more than others even without being trained by anyone. If you give them the same ingredients with another person, their own food will be more tasty and delicious than the other fellow's. 
Although, receiving trainings may help talented people hone the skills they are talented about, it is not the training that is making them to be talented. So, let us be clear about this.
The questions you now may want to ask yourself is this – what is my talent?
I know many of you will be confused now. You may be thinking you do not have any talent because you have never been able to discover it.
So, how do you know what you are talented about? The simple way to know is to go through the simple exercise of listing things that;
you do better than an average person. Perhaps, people have commended you to be really good at such thing. It could be cooking, speaking, writing, dressing, academics, storytelling, it could be anything, just write them down. 
you find doing such thing easier. This means when others struggle to do this, you get it done easily and better. 
If you are able to put anything down from the above exercise, then you should have your talent(s) staring at you by now and this is a good thing you can launch as a business online.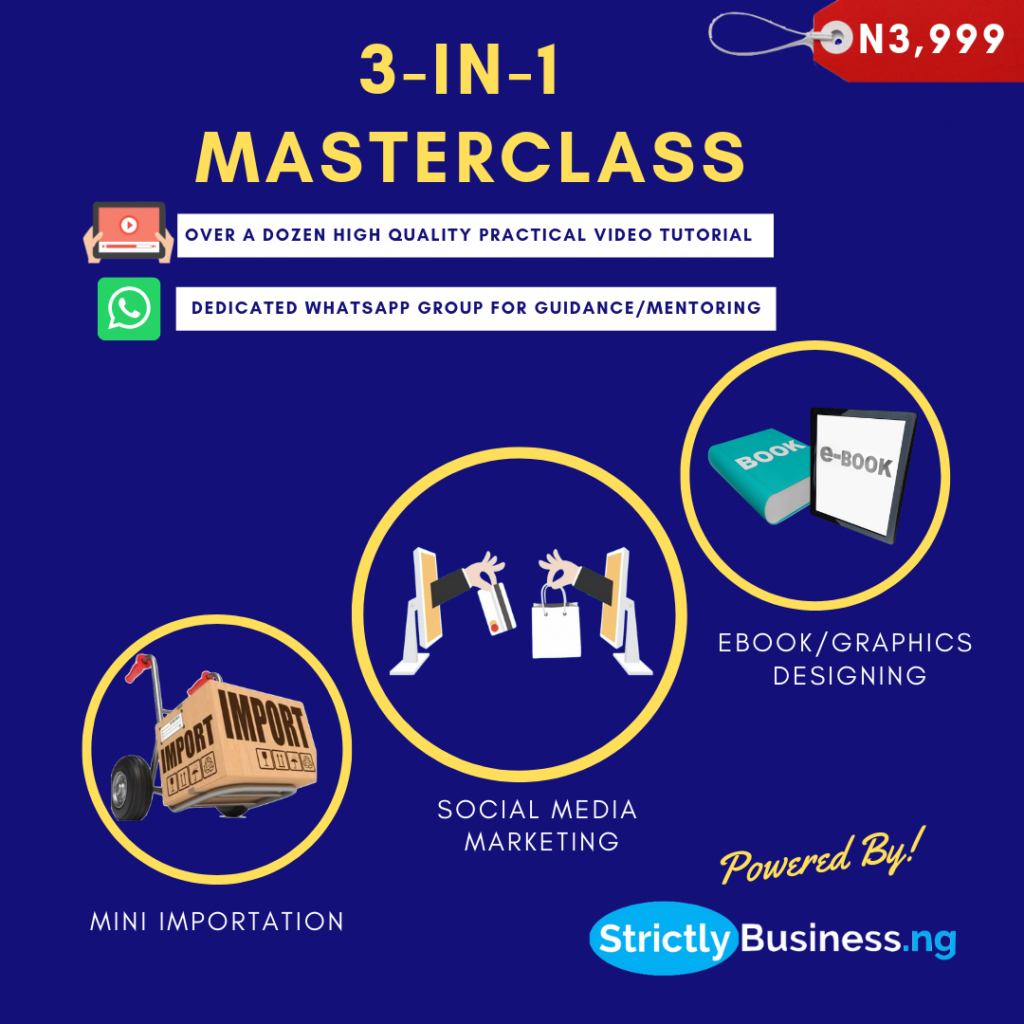 Let me give you an example. I facilitated a class on Self Discovery at the just-concluded one week Conference I attended in Mauritius just on Friday (3/5/19) and one of the participants who attended from Ghana discovered an hidden talent about herself. 
She had the talent all this while but did not know it's something that can be monetised. So, I met her again on Tuesday (7/5/19) and we had a chat where she told me how she's been able to realise a business to start when she returns to Ghana as a result of her newly discovered talent about herself. It could be that simple.
The only challenge most people have is simply not paying attention to their talents and thinking the talents are not worthy or valuable enough to be paid for by anyone, which takes us to the second part of this exercise.
When it comes to making money from your talent, discovering your talent is not enough. You need to subject your talent to the profit test.
Could the talent you have in anyway be something that solves a problem? Is it something that could add values to people's lives? And so on…
If you can cook better than most other people, your talent will be valuable to people like me that love good and delicious food and it means I can exchange my money for your talent.
Don't fall in the category of those that think being a good cook is to be enjoyed by your family alone. You don't even need to own a restaurant to monetise such skill. A simple blog, email list or whatsapp group is enough to make money regularly as you want.
So, in summary, when you are able to determine your talent, you also need to find out how to monetize it.
You will find out more about how to discover your talent and how to monetize it in my GoDigital Course.
Your Skill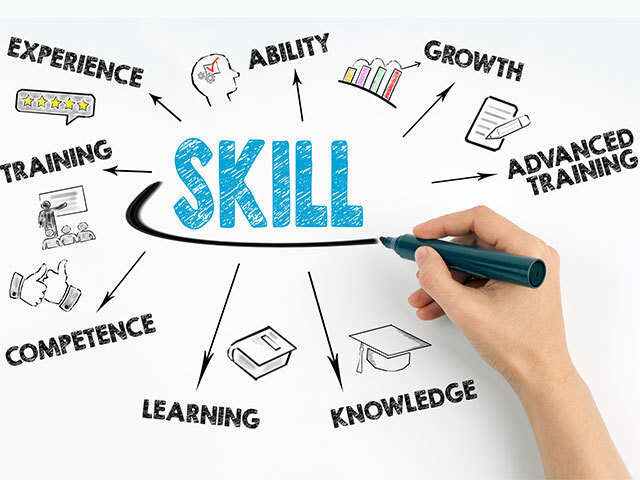 While talents are natural abilities, skills are the capacities you develop as a result of training or education.
For example, if you learn graphics designing, then that is a skill: and that is something you have that majority don't have. 
Skills also involve every knowledge we have picked up in the process of learning. This could be formal learning or informal learning. Again, this is another way people miss out on opportunities when it comes to making money online. 
Those who have skills learnt by informal education always think the internet is for those who have formal education only. So, there are a lot of people who, for instance, know how to make crafts with anything, there are people who are making bags, shoes and all sort of things with ankara but are not making money online.
How about making youtube videos to teach other people how to do the same and get paid? How about organising WhatsApp trainings to teach people? How about starting a blog where you teach people about this? The opportunities are endless. 
It does not matter whether you are a barber, plumber, hair dresser, teacher, accountant or anything. What matters is your ability to be able to creatively think of a way or ways to monetise your skill by determining how it meets people's needs and how you present it to them to get paid.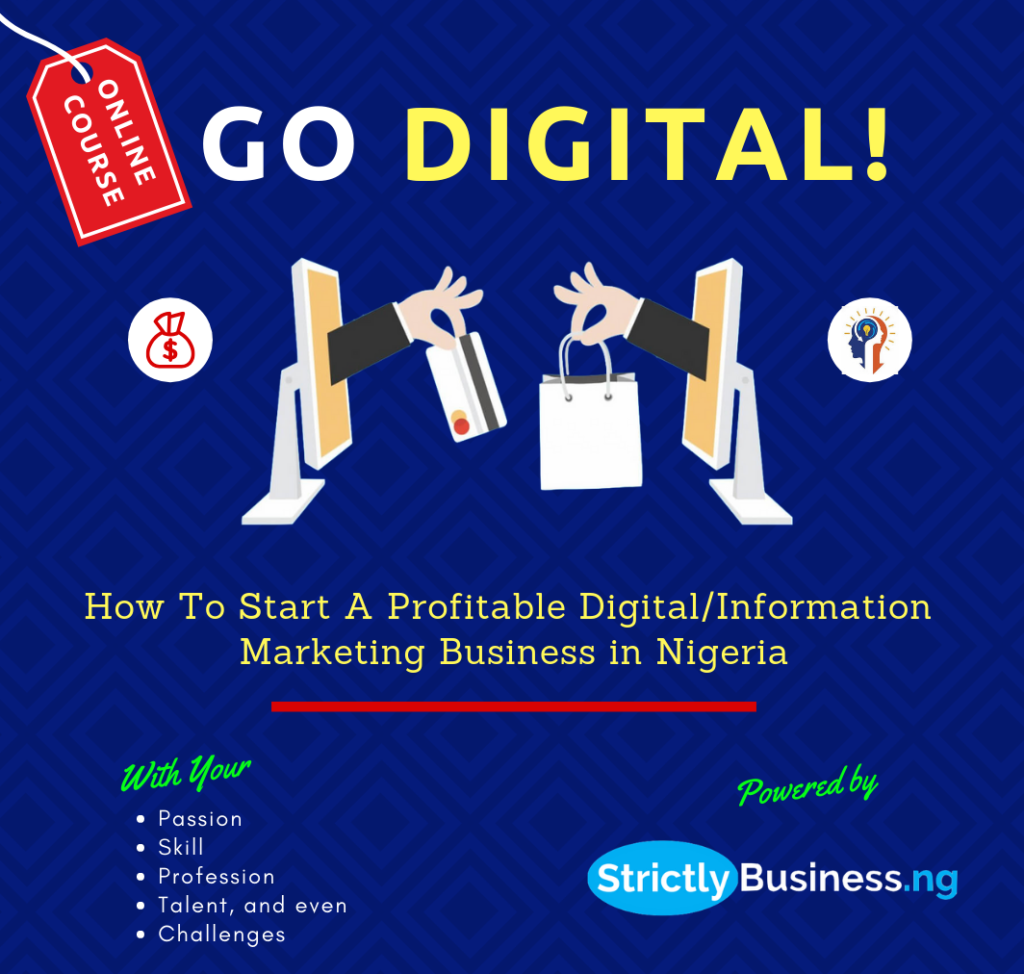 For instance, if you are a barber, thinking the only way to make money is when people walk in to your shop is a NO NO. Same thing for tailors, plumbers, engineers , accountants and so on.
In these days of Facebook, Instagram and WhatsApp, you can do a lot more and earn a lot more too.
As a professional in hair maintenance, you can launch a blog, Facebook group, Instagram page or WhatsApp group where you teach the beard gangs how to manage and maintain their beards and hair.
You can teach the team natural women different natural techniques to maintain their hair and so on. From there, you can be selling stuffs to them or even just let it be a course alone.
With this, it means you also have an online/digital business…it is as simple as that!
I explain this concept more in my GoDigital Course if you want to learn more on how to go about it. 
Let me give you another example. There is a Doctor of Pharmacognosy taking my GoDigital Course currently who has been a lecturer all her life. However, she discovered other ways to make money from her learned skills of pharmacognosy by putting a part of her knowledge down in form of an ebook to be offered to those who attend her WhatsApp training where she teaches women with infertility the scientifically proven herbs that can help them overcome the challenge. 
She's been carrying the skill up and down for several years. Of course, she's been getting paid for the skill as a lecturer. But right now, she has been able to open another channel/source of income simply by determining other ways to monetise her skill online after learning in the GoDigital Course.
See her messages in the GoDigital WhatsApp group below;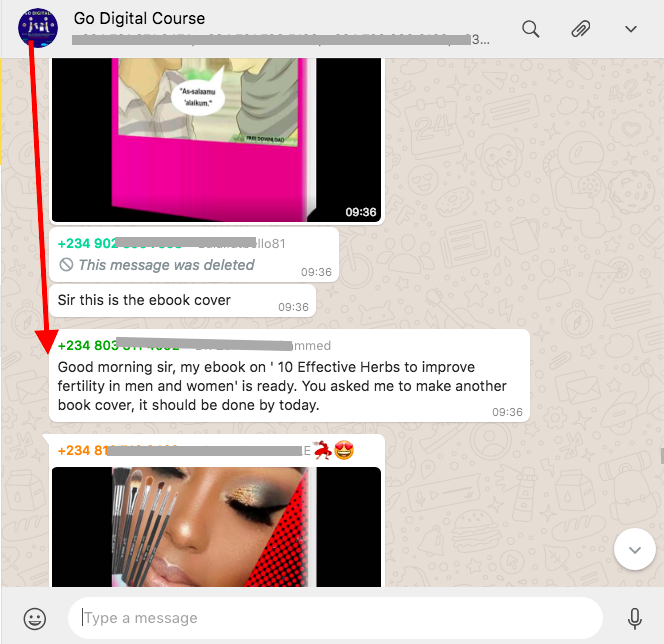 And the next one below;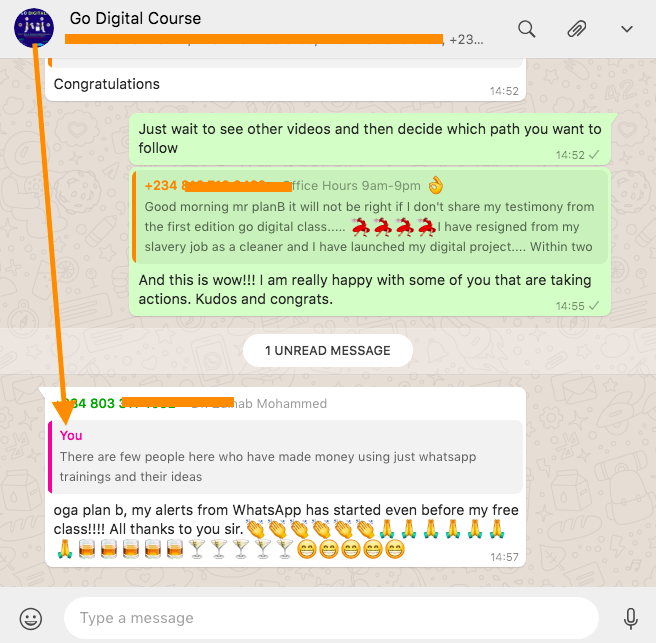 Just about 3 days ago, one of my email subscribers sent an email about something he learnt how to do on his phone but got to know a lot of people can't do.
After reading my last post, he is already thinking of monetising the skill because people always seek his assistance on it. See the mail he sent to me below;

Your Challenges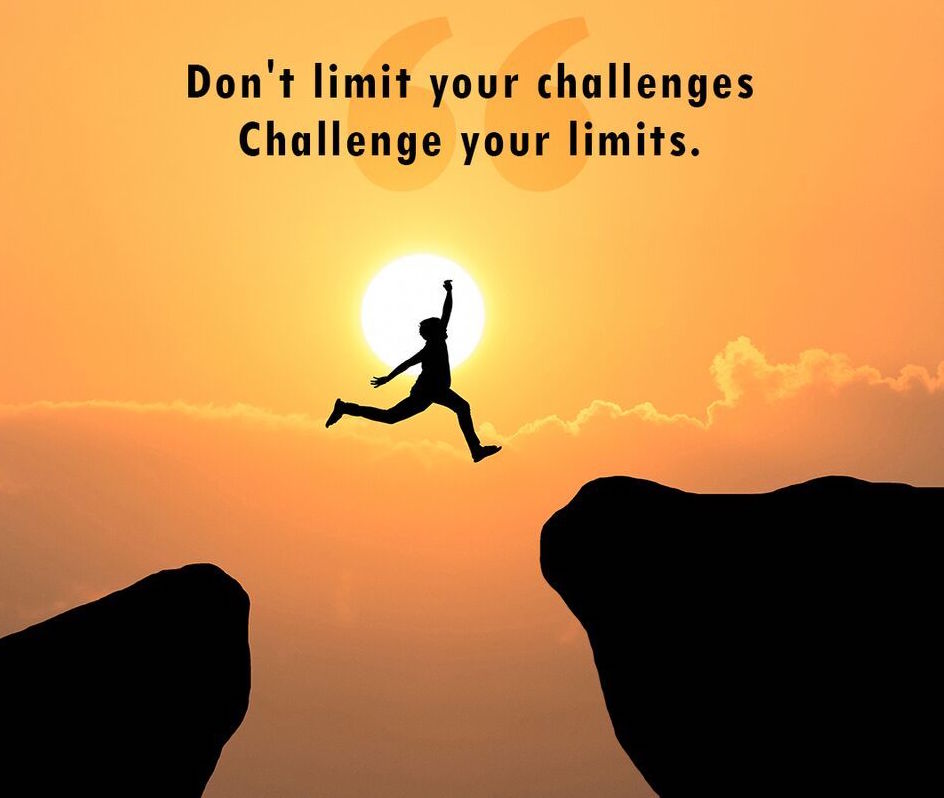 There are times we get overwhelmed as a result of our challenges and even get swallowed by them. However, if we are able to settle down and think deeply, there are ways we can turn these challenges into opportunities. 
No matter the kind of challenge it is, if we are able to find a solution to it, then it has become something we can turn into an online business easily to make money.
The idea behind this is simple. Any time you are facing a challenge, do know that there are many more people facing the same challenge and eagerly looking for solution just like you too.
It could be health, financial, marital, academic or any form of challenge. As long as you are able to find a solution, then you have earned the licence to help others too and you can get paid by doing so. 
If you have suffered a particular health challenge which you were able to overcome by using an herb an elderly woman from your village told you about after spending millions of Naira, this is a good thing to offer others as a paid information. 
Many people don't think about this, but you should. 
If you have faced challenges in your marriage and have been able to resolve them all and now you are enjoying marital bliss, why not package how you did it in form of an information to offer others who are going through same challenges? Or even many people that will learn from that to avoid the challenges. 
How can you do this? Again, you have you whatsapp groups, Facebook groups, Instagram pages, blogs, mailing lists and so on for this.
I can go on and on with examples. I gave a case study in my last post on this series about how one of my students made N60,000 in a matter of days turning what used to be a challenge for her into an online business using just her phone and a whatsapp group. You can click here to read it. 
Of course, there are even simpler other ways to generate ideas which you can package into profitable online businesses and you can find them in my GoDigital Course. 
For those of you who love to learn the right way to do Mini Importation, Social Media Marketing and Graphics/Ebook Design so that you can make money online, you can checkout my 3-in-1 Masterclass where I treat all these together in single course.
Let me know what you think about this write-up in the comment box below.
Do not forget to share this with others that will benefit from it.
Feel free to drop your questions, feedback and suggestions in the comment box below and do watch out for the next post on this series.
Cheers
PlanB